Hi17-3SL :: 3-band Mobile Signal Repeater, EGSM/GSM, LTE, 3G, 1800 m²
Networks: EGSM/GSM900 + LTE800 + 3G2100
Coverage: up to 1000-1800 m²
Inbuilt indoor antenna
Setup and monitoring via a mobile app
Real time LCD display
Smart AGC & MGC functions
Conforms to RoHS & CE RED standards
Description
HiBoost Hi17-3SL is an innovative IOT solution for poor mobile signal reception. The device supports 3 frequency bands at a time and guarantees both smooth voice and speedy 3G & 4G services at a time. With a coverage of 1000-1800 sq.m., the system is perfect to boost signal in a house, business center, restaurant, supermarket, parking, etc.Thanks to Smart Link Function you can manage and set up your booster remotely with a mobile app. Along with intelligent LCD display and smart auto setup software the amplifier can boast of a built-in indoor antenna.Purchase this triband booster now and provide strong connection throughout your home, office, etc!

*Mind that you should have at least 2-3 signal bars outside your house to provide overall strong signal enhancement. The device's coverage also depends on building design features.
Built-In Indoor Antenna
HiBoost Hi17-3SL booster is super easy to mount and use as it goes with a built-in indoor antenna. You don't need to install an indoor antenna separately as usually, a booster only is enough to cover the area of up to 1000 sq.m. Learn more what you gain from this feature:
Save time and efforts on installation
Escape from an antenna hanging inside you house/office and annoying cabling
Place a booster wherever you want regardless of the indoor antenna position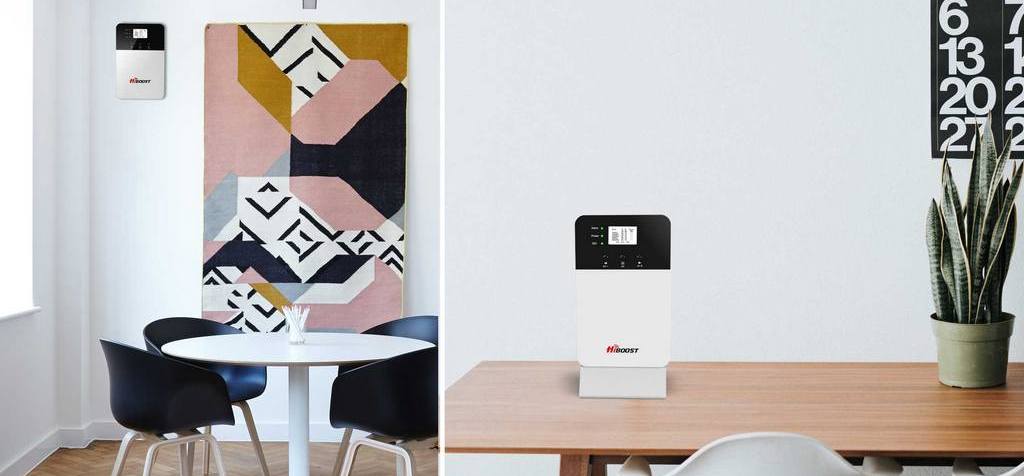 Smart Link Function
Thanks to Smart Link you can manage the system with a mobile app via Bluetooth, Wi-Fi or mobile Internet. The application you need is Signal Supervisor, you can download it free from Google Play or Apple Store. Find out what opportunities the application will give you:
Monitor and set up your booster anytime anywhere
Test your signal strength to find the best position for the outdoor antenna and to check the level of mobile signal enhancement
Get detailed info on your mobile network, serving cell tower, carrier, etc.
Share your device with an engineer for assistance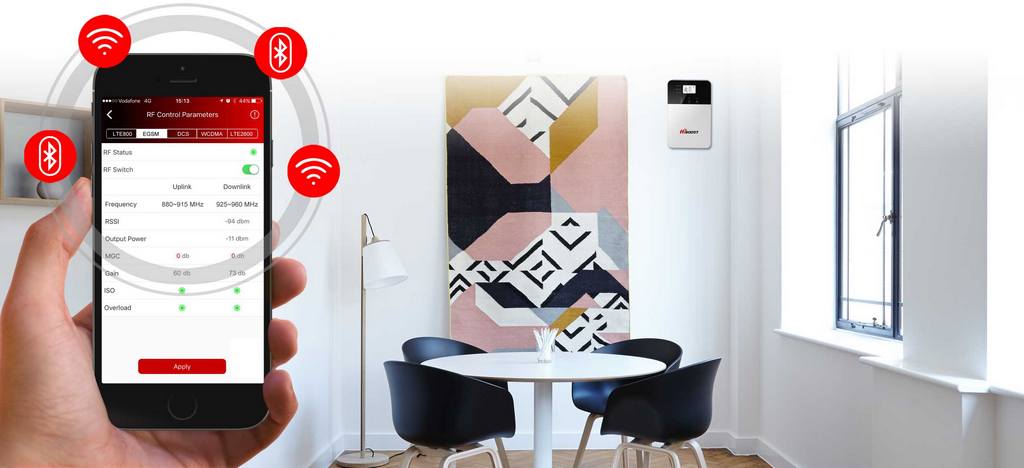 User-Friendly LCD Display
Real-Time Monitoring
Displays gain, frequency, and output power to let you keep control over the current working state.
Smart Troubleshooting
Detects and shows an exact kind of malfunction (ALC or ISO) giving you the cue what is necessary to fix.
Assistance in Installation
Helps to find best point for outdoor antenna mounting basing on the output power value displayed on the screen.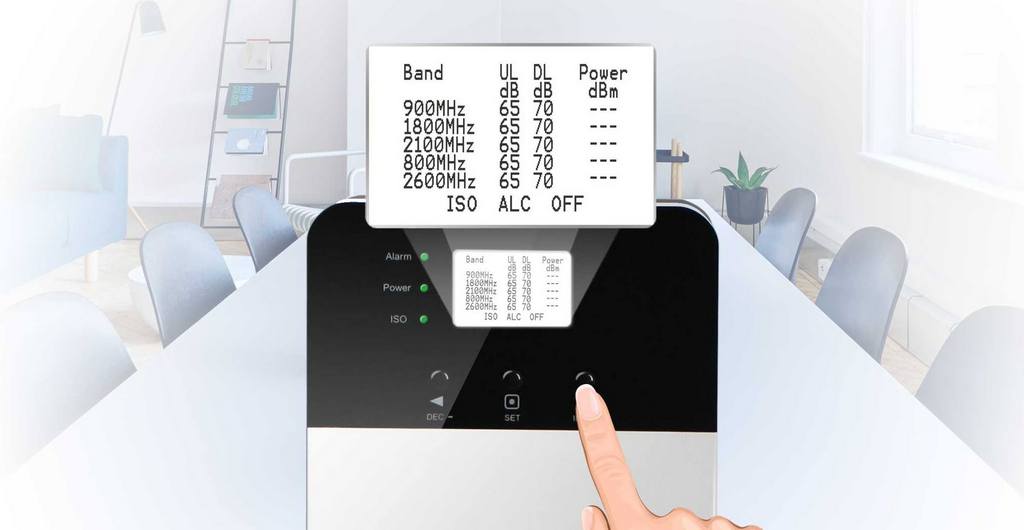 Smart AGC & MGC Functions
Automatic Gain Control
Intelligent System Setup
After the booster is on, AGC automatically measures input signal strength and adjusts best system parameters suitable for mobile signal reception conditions in your particular area.
Powerful Network Protection
AGC facilitates power control between the base station and a repeater to keep gain at the optimal level. This way HiBoost doesn't overlap mobile network and keeps noise minimized.
Manual Gain Control
The function lets you thoroughly adjust mobile signal amplification power on your own manually. Recommended for advanced users.
Kit Options
Hi17-3SL model standard kit includes:
mobile signal booster,
outdoor directional antenna,
50ft (15.2m) HiBoost 200 cable,
12V / 3A, AC/DC power supply,
power cord with European standard plug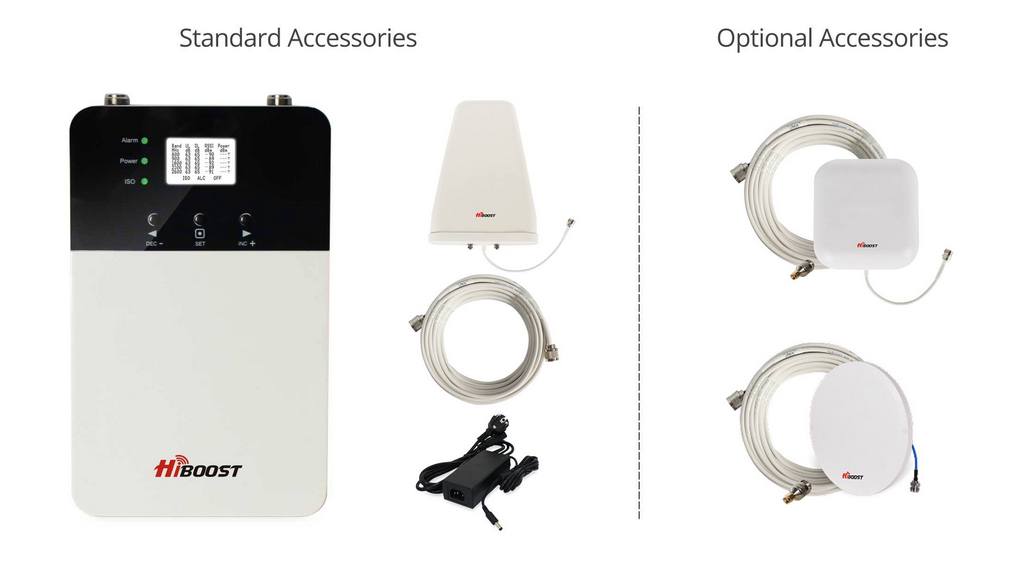 If you need to extend coverage area from 1000 up to 1800 sq.m., you can add 1 or 2 external indoor antennas. There're 2 kinds of optional kits available – Panel and Omni, if you need to add two kits you can mix them:1) Panel Kit: indoor panel antenna, 50ft (15.2m) Hiboost200 cable2) Omni Kit: indoor omni ceiling antenna, 50ft (15.2m) Hiboost200 cableChoose the one that best meets your needs! Omni Kit is ideal if it's necessary to provide all round coverage, while Panel Kit is suitable if you need to focus the signal into a particular direction.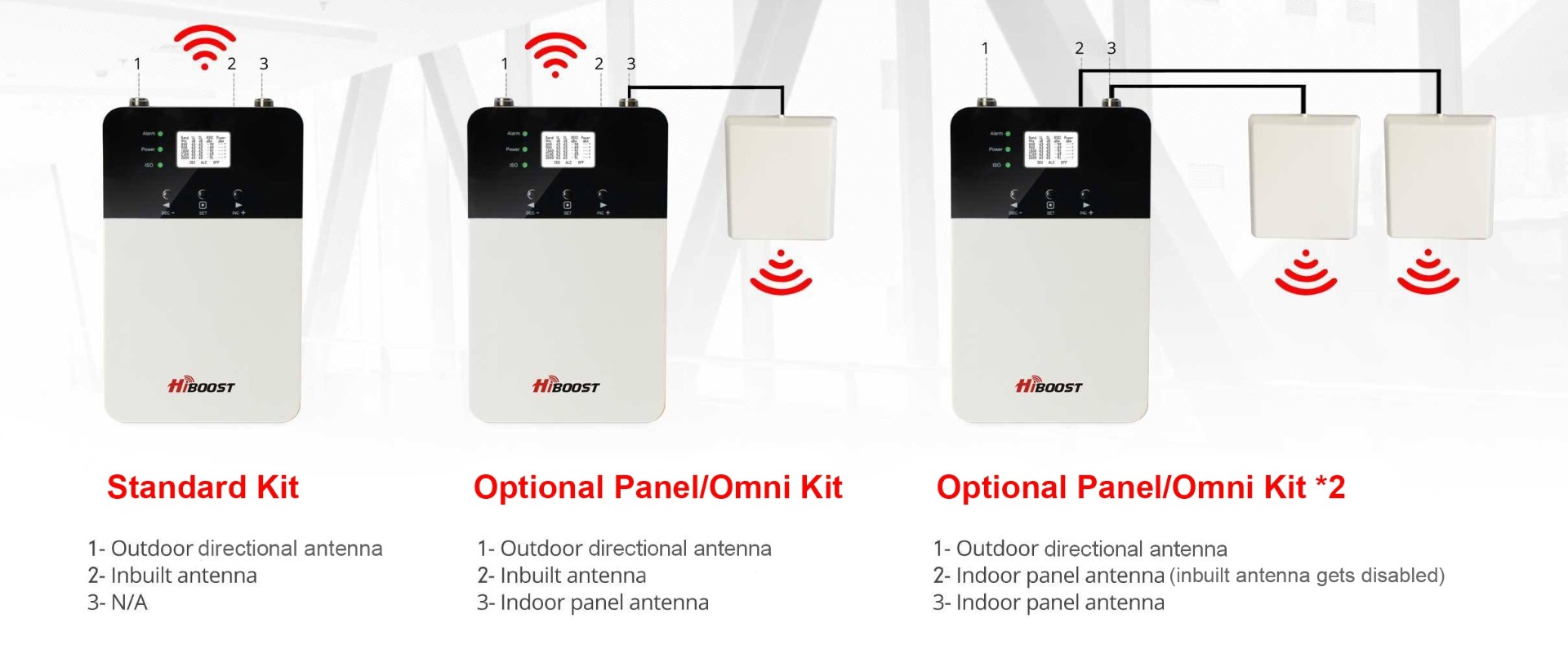 Additional information
| | |
| --- | --- |
| COVERAGE | |
| FREQUENCY | |
| APPLICATION | |
| NETWORK BANDS | |
| SERVICE TYPE | |
| | |
| --- | --- |
| Coverage Area | 1800 m² |
| Application | Large Home&Office |
| Network Type | Calls, 3G / UMTS, 4G / LTE |
| Frequency | 800 MHz (4G/LTE), 900 MHz (GSM/EGSM), 2100 MHz (3G/WCDMA) |
| Frequency Range | 832~862MHz (Uplink) 791~821MHz (Downlink), 880~915MHz (Uplink) 925~960MHz (Downlink), 1920~1980MHz (Uplink) 2110~2170MHz (Downlink) |
| Number Of Bands | Tri Band |
| Max. Gain | 65dB (Uplink) - 65dB (Downlink) |
| MGC (Step Attenuation) | ≥ 31dB / 1 dB step, dip switch control |
| Intelligent AGC (ALC / ISO) | ≥42 dB / ≥42 dB |
| Gain Flatness | Typical ≤5 dB (P-P) |
| Noise Figure @ Max. System Gain | Typical ≤5 dB |
| V.S.W.R | Typical ≤2 |
| Group Delay | ≤ 1 μs |
| Frequency Stability | ≤0.01 ppm |
| Power Supply | Input AC90~264V.50/60Hz,Output DC 12V/3A |
| Power Consumption | ≤12W |
| Input & Output Impedance | 50 ohm |
| LCD Display | Frequency, Gain, Output Power, ALC, ISO, etc. |
| Indication LEDs | No |
| I /O Port Type | N-Female |
| Dimensions | 153 x 246 x 36mm/ 6 x 9.7 x 1.4inch |
| Booster Weight | 1.8 kg |
| Booster Weight with KIT | 5 kg |
| Operating Temperature | -10ºC~+55ºC |
| Storage Temperature | -10ºC~+80ºC |
| Relative Humidity | 5% - 95% |
| Barometric Pressure | 55 kPa -106 kPa |
| Environment Conditions | IP40 |