Hi20-EW :: 2-band Mobile Signal Repeater, EGSM/GSM/3G, 3G, 4000 m²
Network: EGSM/GSM/3G 900 + 3G 2100 MHz
Coverage: large indoor area up to 4000 m²
Constant clear voice and speedy 3G data
Intelligent LCD Display
All installation components in a single kit
Advanced noise and mobile network protection
CE- and RoHS-certified
Description
GSM+3G dual band amplifier HiBoost Hi20-EW is an efficient way to get rid of slow 3G speeds and constantly dropped voice service! From now on you won't miss a call or message and will stay always reachable for your colleagues and partners.The model coverage is up to 1500 – 4000 m2. Hi20-EW will easily spread strong signal around such indoor locations as a large house or villa, business center, shopping mall, supermarket. hotel, etc.It comes in an elegant metal body equipped with real-time LCD display. Thanks to smart AGC function the system will auto set up the best performance for your area in seconds.Buy it now and improve the quality of your everyday and business mobile communication!
*Mind that in order to achieve full performance of your cell phone booster you should have at least 2-3 signal bars outside your house, office, etc.
LCD Display
Real-Time Monitoring

Displays gain, frequency, and output power to let you keep control over the current working state.

Smart Troubleshooting

Detects and shows an exact kind of malfunction (ALC or ISO) giving you the cue what is necessary to fix.

Assistance in Installation

Helps to find best point for outdoor antenna mounting basing on the output power value displayed on the screen.
Smart Functions
Automatic Gain Control (AGC)
Intelligent System Setup
After the booster is on, AGC automatically measures input signal strength and adjusts best system parameters suitable for mobile signal reception conditions in your particular area.
Powerful Network Protection
AGC facilitates power control between the base station and a repeater to keep gain at the optimal level. This way HiBoost doesn't overlap mobile network and keeps noise minimized up to zero.
Manual Gain Control (MGC)
The function lets you thoroughly adjust mobile signal amplification power on your own manually. Recommended for advanced users.
Standard Kit
HiBoost Hi20-EW model comes in a kit with the following components:

a mobile signal booster
an outdoor panel antenna
50ft (15.2m) HiBoost200 cable
12V/3A, AC/DC power supply
mountings
a user manual
Optional Kits
There're 2 optional kits available in addition to a standard kit, Omni PRO & Panel PRO kit. To extend a coverage area up to 4000 sq.m., you can upgrade any optional kit up to 6 additional indoor antennas + splitters, couplers. etc.
1)
Panel PRO Kit
: indoor panel antenna, 35ft (10.6m) Hiboost300 cable2)
Omni PRO Kit
: indoor omni ceiling antenna, 35ft (10.6m) Hiboost300 cable
Omni PRO Kit is ideal if it's necessary to provide all round coverage, while Panel PRO Kit is suitable if you need to focus the signal into a particular direction. Choose one that best meets your needs!
Contact our Technical Experts to get a detailed solution for your case.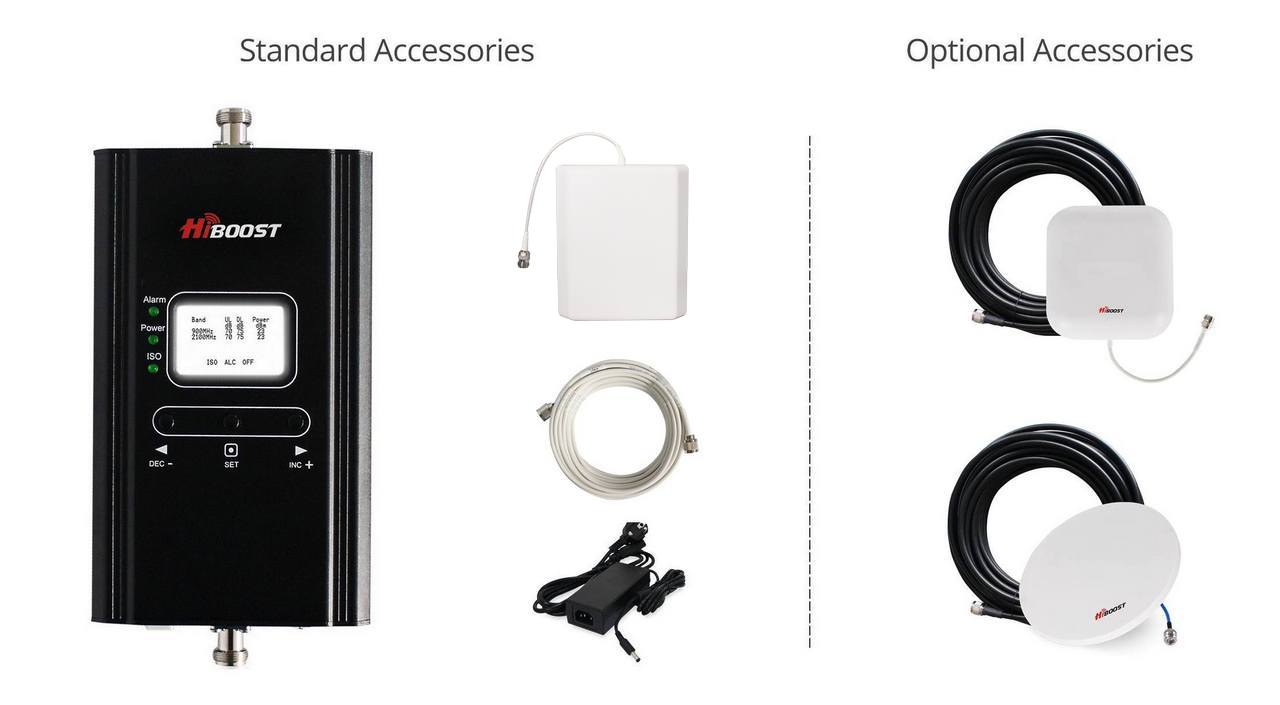 Certification
| | |
| --- | --- |
| HiBoost product is officially certified for compliance with the international and European safety, quality and health regulations in the accredited test laboratories. Here're the certificates we have:CE – with CE certification, we declare our product's compliance with the requirements of the European health, safety and environmental protection legislation.RoHS – RoHS directive proves the limitation upon the usage of hazardous materials in HiBoost product and in its components.ISO 9001-2015 – HiBoost meets ISO 9001-2015 quality management systems standard that sets out the principles basing on strong customer focus, top management involvement and efficiency, consistent product quality improvement. | |
How It Works

1. The base station delivers a strong mobile signal, but can't deliver it to your area
2. The outdoor antenna picks up a weak mobile signal from the base station
3. The signal goes from the outdoor antenna to the booster trough the cable
4. The booster amplifies the signal and transmits it to the indoor antenna
5. The indoor antenna spreads the boosted signal all around your area
6. Your mobile phone receives a strong signal and starts communicating with it
Additional information
| | |
| --- | --- |
| COVERAGE | |
| FREQUENCY | |
| APPLICATION | |
| NETWORK BANDS | |
| SERVICE TYPE | |
| | |
| --- | --- |
| Coverage Area | 4000 m² |
| Application | Commercial Building |
| Network Type | Calls, 3G / UMTS |
| Frequency | 900 MHz (GSM/EGSM), 2100 MHz (3G/WCDMA) |
| Frequency Range | 880~915MHz (Uplink) 925~960MHz (Downlink), 1920~1980MHz (Uplink) 2110~2170MHz (Downlink) |
| Number Of Bands | Dual Band |
| Max. Gain | 65dB (Uplink) - 70dB (Downlink) |
| MGC (Step Attenuation) | ≥ 31dB / 1 dB step, dip switch control |
| Intelligent AGC (ALC / ISO) | ≥42 dB / ≥42 dB |
| Gain Flatness | Typical ≤5 dB (P-P) |
| Noise Figure @ Max. System Gain | Typical ≤5 dB |
| V.S.W.R | Typical ≤2 |
| Group Delay | ≤ 1 μs |
| Frequency Stability | ≤0.01 ppm |
| Power Supply | Input AC100~240V, 50/60 Hz, Output DC12V / 3A |
| Power Consumption | ≤10W |
| Input & Output Impedance | 50 ohm |
| LCD Display | Frequency, Gain, Output Power, ALC, ISO, etc. |
| Indication LEDs | No |
| I /O Port Type | N-Female |
| Dimensions | 120*198*34 mm / 4.7*7.8*1.3 inch |
| Booster Weight | 1 kg |
| Booster Weight with KIT | 3.6 kg |
| Operating Temperature | -10ºC~+55ºC |
| Storage Temperature | -10ºC~+80ºC |
| Relative Humidity | 5% - 95% |
| Barometric Pressure | 55 kPa -106 kPa |
| Environment Conditions | IP40 |